Helmond, 6 December 2019 – Management company Felix Clercx sells its shares in BV Trading company of Felix Clercx to Forestia® which is located in Lille, France.
Felix Clercx is a family business, founded in 1891 in Helmond and in 3 generations has grown from a local sawmill to an important supplier to the timber and building materials trade within Western Europe. The range consists of high quality products which are mainly used for "Fencing, Decking and Cladding". The main materials are tropical and thermally treated wood, aluminium and wood composite.
Forestia® is a company specialising in the development and sale of products for outdoor applications. These products are marketed by its subsidiaries: Amenabois, So Garden and Fiberdeck. Its sales area is France and its target group consists of DIY chains and the timber and building materials trade. Forestia, originally a design agency, attaches great importance to the development of high-quality products for sustainable and environmentally friendly use. More information can be found on www.fiberdeck.com and www.forestia-group.com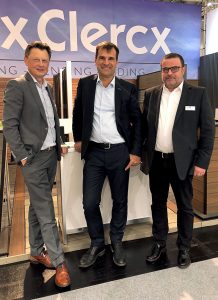 Peter Derckx, CEO of Felix Clercx:
"In 2012, I took over the general management of Jean-Marie Clercx and soon afterwards he withdrew from the daily business. The reason why the shares are now being sold is due to the fact that within the family (both in the short and long term) there is no ambition to continue the company. As CEO, I am of course responsible for the continuity of the company, including its personnel, and that is why we decided to look for a suitable takeover candidate sometime in the spring of 2018.
Felix Clercx has experienced an enormous growth in turnover in recent years, is financially very healthy and is therefore able to show very nice ratios which attracted a lot of interest from several parties.
Forestia® turned out to be the "perfect match" for us: the same strategic vision, no overlap of sales markets and extremely innovative within our current range.  Especially our customers will notice that we are going to make big strides in the field of product development, marketing and service. I will continue to give direction to this beautiful company in the coming years and together with my staff and the new owner Forestia® we are looking forward to the future with even more confidence and we will maintain our slogan: Wood for Generations.
Nicolas Tant, CEO of Forestia® adds:
"The acquisition of Felix Clercx will enable us to accelerate our growth in Europe by opening up new markets with high sales potential. Felix Clercx, is a company with which we have built ever closer commercial ties in recent years. Felix Clercx shares our values, especially with regard to sustainable development, with a large share of FSC-certified wood in the range. Among other things, this company has a highly efficient logistics platform of 40,000 m2, long-term partnerships with suppliers and a large customer base spread across Germany and the Benelux countries.
At the same time as the acquisition by Forestia® , Felix Clercx will fully incorporate the German sales office as a 100% subsidiary. This sales office, consisting of 5 people, has been working with since 1998. This acquisition also guarantees continuity in the German market.